It was just around midday when we stood in line waiting for the security check of the airport. Tim was sitting happily with Sander in the carry bag looking around and smiling at everyone.It went smooth and relatively quick, we boarded the plane and found our seats, the plane was extremely full and we had to keep Tim on our laps for the entire flight. He didn't mind much though and slept like a baby 😉 A hot wall hit us as we walked out of the airport and entered the Bahamas. It felt so good! Watching the palmtrees sway and the soft sounds of reggae somewhere in the distance.
It was only a short walk to the 57ft boat that was going to be our residence for the next month. But with all the luggage and the hot humid air we where glad to get there and sat down happily on the dock waiting for the owner to arrive.
We spend some time going through the boat together with the owner, which I do really prefer to figuring everything out alone. He then left us alone with the boat and wished us a good 3800nm sail across the Atlantic. The marina in Nassau cost about 300,- dollar a day!! So we moved out to anchor quickly. Nassau didn't look really appealing to us, overloaded by tourists that get hoarded on and off the huge cruise ships that arrive one after the other. So we did what we had to do and left as quickly as possible.
Sander and Tim's first Atlantic Crossing, my third.
The first night I stood looking up at the rigging, everything on the boat was either electric or hydraulically operated, with in mast furling. I thought about all the possible things that could break on it and what I would do if it did. I decided to inspect all the emergency systems and become familiar with them.
Thinking of problems ahead of time and finding solutions has become a big habit of mine. My dad used to make me do this when I went sailing as a child, but it turned out to be one of the best and most useful brain trainers and I still find myself doing it everywhere without even really realising.
The days onboard went by slowly, we had very little wind from the start and since I wanted to keep the diesel for later we tried to sail as much as possible. Hot windless days of bobbing around at 2-3 Knots, but when we needed to be bobbing around anyway – this was certainly not a bad boat to do so. With a watermaker, freezer, fridge, generator, wash-machine, dryer and a comfortable cockpit to launch in. We had a lot more luxuries than we're normally used to! By the time we passed Bermuda Tim had learned how to stand up and walk along the couch. It didn't take much longer for him to figure out how to climb out of his bunk and then up the stairs. I made him a life-line for outside play time which he didn't mind much but did give me a day job of untangling him 😉
Bermuda past and we were still pretty much floating around, watching thousands of Portugese Man-O-Wars float by. Almost 2 weeks had gone by when we finally hit some wind. Right from behind though so we where still unable to hold course and tacked down the rhumb line. On the second night the autopilot decided to go it's own way and would suddenly make 90º degrees turns. Most of the times we felt it quick enough to run to the helm and get back on course before jibing. Of course this always happens in the middle of a pitch black rainy night. It kind of solved itself and started steering normally again although we did get the same problem again two weeks later. The following day I was furling in a little bit off main sail when suddenly the sail didn't furl any further even though I was pressing the button. I stood looking up at the huge sail and thought, well – there it is, it had to happen…
So I walked up to the mast and started hand furling the mainsail in, that took a while but actually worked fine. Then we needed to find the problem, the hydraulic pump was still running and after finding it we also saw there was still plenty of fluid and pressure on it. Another strange thing is that the jib and outhaul also still worked. In the end it turned out to be a fast connector in the hydraulic hose system that had come loose. Not a difficult job to repair, but it took us a while to find it.. And so we still had a little bit of a work-out, furling in and out the mainsail by hand a few times instead of only training our fingers by pressing buttons 😉
After this incident we didn't have any more trouble with the hydraulic systems.
The wind dropped again and now we where floating around in thick fog and drizzly rain which really didn't improve the overall mood onboard. But we stayed happy with talking about GuppyXL the foundation and how to make all the things happen that we wanted to do in our life.
I really love this about sailing, it gives me the so much needed time of self reflection and clearing some space in my mind to get things straight and back in a row. (Once we came back on land we couldn't wait to start working out all of the ideas we had made on the boat )
After days of floating and some motor sailing through the drizzle we finally got a little bit of good wind and were able to get the speed up from 3kn to 8kn. Great improvement! Because of this nice sprint we made it into Horta by sunrise and had the whole day to fix a few things, buy food and of course make the traditional dockside painting! 😀
By Sunset we were out of the harbour and on our way again for the last stretch to Portugal. We had used the Gennaker a fair bit in the light winds and since those light winds continued we hoisted the big canvas with the beautiful logo of the boat in it up again.
The 32 ton boat was now plowing along beautifully when one of a sudden a big wind gust rushed into our sails and filled the gennaker. She broached before I reached the helm, and even then I wasn't able to get her downwind again. I looked up at the big sail just in time to see the top rip off it to then tear all along the middle and towards the clew. The boat straightened. Sander and I looked at each other and without saying a word we sped up to the front deck to haul the sail in. A very heavy and wet few minutes later we sat next to the shredded Gennaker, still a bit baffled at how fast this huge gust came out of nowhere. Normally these gusts are accompanied by rain and visible quite well, but this one wasn't. I did have that on Guppy a few times as well, and on one occasion I was sailing on a Code Zero which took me a lot of hard work getting it in!
Well we still have a code zero I said. But we didn't hoist anymore big sails that day, the wind dropped completely and we motored a day to find the fresh northerlies we had been so eagerly waiting for. Finally after more then 20days we were able to feel the boat really sailing well with a good breeze!
This definitely was a strange crossing, so many days without actually being able to sail properly. But we did have enough time to think, talk and make plans which was really great 🙂
And if you have to spend so much time floating around it definitely wasn't the worst boat to do so 🙂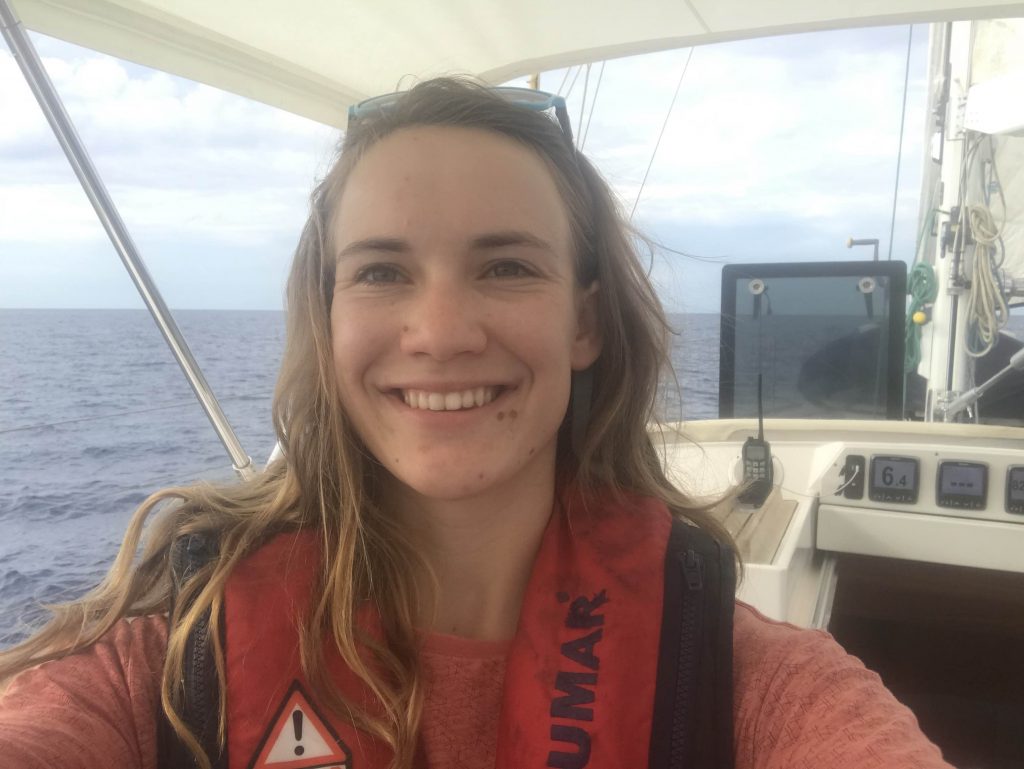 Best baby to fly with 😉