From Cascais, Portugal to Caribbean Atlantic Crossing & Sailing in the Caribbean
15th of December 2022 to April 2023.
Duration: Anything from 1 week up.
Age: 18+
Families with children are welcome ( under 12yo travel for half price)
Cabins/Sleeping : shared or private cabin options.
Smoking on board: smoking not-allowed
Total spots available: 6 
Cost: €1095,- Per person per week
Looking for adventurous, relaxed & easy going people that like the great outdoors and life at sea. You don't have to be a sailor, I will gladly teach you all I know. This is NOT a luxury trip, you will be treated as crew onboard and so we share all duties that need be done onboard. Taking turns in cooking, cleaning and sailing the ship.

It helps if you are used to be around people on close quarters. Even though the ship is in great seaworthy condition the interior is in some parts still a work in progress. There is also limited water and power onboard. It's a bit like sailing in the good old days ;)

Voyage cost covers: Diesel, personal safety equipment, clearance fees, bedding, general cost for ship and food for making three ship's meals a day* - Tea and Coffee and limited soft drinks - No Alcohol provided onboard** Foul weather gear and travel to and from the boat are NOT included.

* Ship meals could be:
Brown beans, vegetables, onion, bacon dish
Pasta in various ways
Rice dishes
Homemade Pizza's
Potatoes, vegetables, side dish.
Lasagna

Open for suggestion of other dishes, let us know beforehand.

** You are welcome to take your own alcoholic beverage for enjoyment during sundown/anchor times. No consumption during sailing and watches.
This is a journey with many faces. After leaving Europe you will have a few days at sea to settle into a routine before arriving at the diverse landscapes off the Canary Islands. From Black Lava Rock & volcanoes to some epic mountain hikes. It's another week at sea before a small spec of land will appear on the horizon stepping into a completely different world.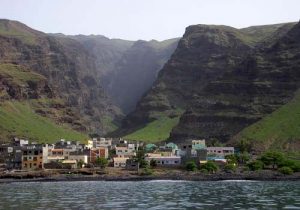 The Cape Verde lay close to Africa and the culture is as such. You will have to communicate with your hands and feet unless you speak creool, a mixture of Portuguese, Spanish & English. Both the history and culture of these islands are incredibly fascinating.
Still flabbergasted by all the new experiences we will set sail to cross the Atlantic Ocean, a three week journey that gives plenty of time for self reflection, teamwork and spending some amazing hours in the never ending blue of the ocean and sky until the islands of the Caribbean pierce our horizon.
Possible stops along the way are: Madeira – Lanzarote – Las Palmas de Gran Canaria - La Gomera - Tenerife - Sal ( Cape Verde) Sao Nicolau ( Cape Verde) Paramaribo ( Suriname)
There will be several opportunities for shore explorations and hikes - these are not organised by us and so it's up to you to see what you would like to explore in the different places we land at.
The Ship
Havørn is a modern replica of the old Norwegian Fishingcutters. She was build singlehandedly by Ron over a period of 20 years starting in 2001. She is build extremely strong in the triple skin cold moulded building fashion. The interior is a stylish mix of Mahogany in old ship's style and lighter Pine wood.
Norwegian Fishcutter, Designed and build by Ron Dekker
LOA: 24m
Beam: 7.10m
Depth: 3.20m
Hull Material: Wood/Epoxy
Weight: 120T
Sleeps: 10
Cabins: 4
The Captain
Ron Dekker
Ron has been in and on the water since he was able to walk. Being fascinated by the way sailboats use the wind to travel all around the world, but having no money or means to acquire a sailboat himself, he started building and altering boats when he was 9 years old. Ultimately building and finishing a 12meter Ketch when he was in his early 20's he then continued to sail her around the world for 7 years. In this time the dreams and plans of Havørn were made and he started the build soon after the return of the round the world voyage. Ron has many blue water miles and great technical and building skills. He passed on his knowledge to Laura ( his oldest daughter) who is now in her turn passing it on to her kids and the teenagers she sails with onboard Guppy. If you join onboard he will gladly share his stories, knowledge and the special gifts of the ocean together with you.