Your Crew
Laura Dekker - Captain
Founder of the Laura Dekker World Sailing Foundation.
Partner of Sander and mother of Tim and Alex.
Having only lived one year of her life in a house, Laura's first nature are boats and water. At the age of 14 she set off on a journey to sail solo around the world, which she successfully completed at age 16 making her the youngest person to ever complete such a voyage. Besides the ocean and sailing Laura loves sharing her experiences and passions especially with the new generation. Having lead several youth camps, hikes and sailing lessons, the idea slowly evolved to set up the Laura Dekker World Sailing Foundation. She welcomes new challenges openly and jumps on any adventure (land or sea based) she can get. In her quiet time Laura enjoys reading, playing the guitar and her beloved violin which she has dragged around the world several times
Sander Vogelenzang - First mate
Co-Founder of the Laura Dekker World Sailing Foundation.
Partner of Laura - father of Tim & Alex.
Aged 11 Sander decided he wanted to have a mini 6.50. A little boat, but very fast and seaworthy making them extremely expensive. Nevertheless, this didn't stop him, at the age of 17 the drawings for his own boat were ready and he successfully build his own prototype mini 6.50. He now works as a professional boat builder, sails as much as possible and of course still loves to jump on every big challenge that comes along.
Pia Leuchner - Crew
Pia has been an active member at the DLRG ( German Life Guard Association) for many years, now teaching the younger kids to swim and teaching them safety in and around the water. She spends most of her holidays doing volunteer work with children or sailing. Her love of sailing made her join one of our Atlantic Trip voyages, So Pia has clocked a fair amount of miles onboard Guppy already and is excited to come onboard to share her great energy, knowledge of sailing and adventures with the children.
Jildou Riemersma
Jildou is a super active person. Think about some crazy adventure and she's already tried it or still wants to try it out. Last year her passion for sailing started. She current sails in a BM. She also likes horseback riding, mountain biking, swimming and hiking through heavy rainstorms. In the future she will work with children a lot as she about to start a study in both pedagogical sciences and the teachers college for primary education. 
Valentijn Elderhorst - Crew
Valentijn has had his feet on a boat since he was born, having grown up sailing around the Netherlands and Europe with his family. At the age of 16 he joined a tallship to sail across the Atlantic ocean from St.maarten to Rotterdam - giving his love for a sailing an extra boost. Nowadays he studies maritime technology and gives sail training to children and teenagers in the weekends. Besides sailing he likes to read, travel, row and ski. 
 Cristina Tomé Marqués
Cristina's deepest essence is made of music: she has been playing instruments her entire life and is a secondary school music teacher. Her favourite instruments are accordion, piano, clarinet and ukulele. Besides being a musician she is also an improvisational theater artist,traveler, adventurer, nature lover and two years ago she found an interest and passion for sailing. She believes in alternative ways of teaching and learning. Arts and nature related activities are her preferred educational tools and ways to connect with people
Tim - Deckswab
Tim is our youngest crew member but doesn't hesitate to tell our new trainees how to furl the genua or raise the sails. He loves watching the birds, fish and watching the moon and stars in the rare circumstances we leave him up late enough to see it. He creates a big part of the entertainment onboard and doesn't hesitate to ''help'' in whatever duties need to happen. 
Furthermore he enjoys swimming, music and dancing. 
Alex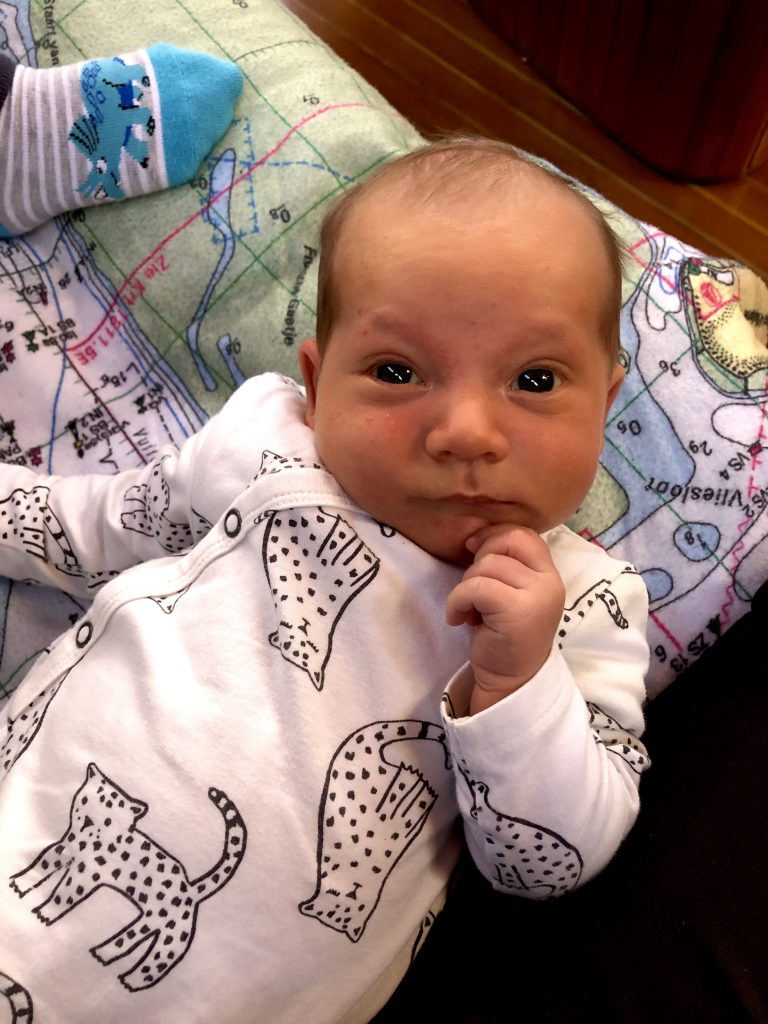 Alex - No formal function yet ;) Our youngest, sailed 10,000 nautical miles in mommy's belly and born onboard Guppy. He doesn't know anything other than boat-life and is curious and learning about everything.